Ana de Kerzalt
-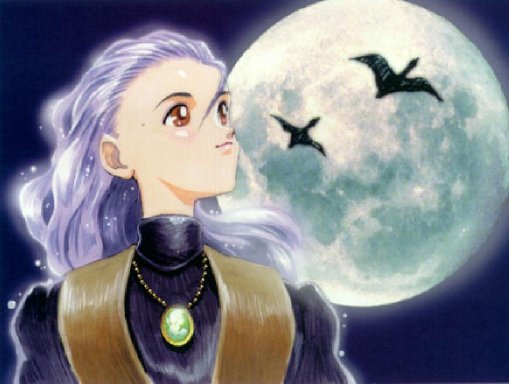 -
Ana is a young, pretty girl who seems to be around 15 years old, standing a meek 4'9". Though she's good with some weapons, Ana isn't really a born fighter, being quick, slim and not very tall, rather than strong and imposing, but she's also good with magic, which compensates for her lack of strength a bit. She's quite pleasant to look at, having long, shiny purplish hair and lovely green-blue eyes.
Since she's a bit of a tomboy, she usually discards the poofy and elegant dresses which become her as a princess, and wears stylish garments which are more efficient in defending. She usually wears a cloak or cape, since they are an almost basic prerequisite for a quick, good disguise, and takes care when in disguise not to let her hair flap around. Her weapon of choice is the staff or rod, and she's quite skilled at wielding one. Ana also tends to carry some helpful items in her backpack, knowing through the books she's read that you can never know what awaits around the corner. That's one of the reasons she left home.
Ana is the royal princess of the Kerzalt, and has never been outside the castle and has led a rather sheltered life since she was born. Even walking the streets of her own kingdom was forbidden to her when growing up, since her parents, who were very protective, didn't want to risk safety for fun. Growing up in isolation, Ana is a bit tomboyish, and doesn't care much for what she calls being "grounded for life." Through the years, she has tried not a few times to escape into a normal, free life, but has been caught again and again, being returned to her room, her prison.
She loves reading stories of far away lands, of heroism and honor, and dreams of leaving behind the castle walls to be able to see and explore the world. One night, after having carefully planned her escape in advance, she got lucky. The guard in charge of her section of the castle wasn't on duty, and, putting on some armor and a helm, she pretended to be a soldier and "relieved" another guard who was on duty, taking watch over a section of the eastern walls of the castle. When she was sure nobody was looking, she quickly slipped down the castle walls and disappeared into the darkness of the sleeping city. To keep from being recognized and shoved back to the castle, she goes by the name of Jack, being disguised as a wanderer.
Ana is a bit tomboyish, and, since she's a princess after all, also somewhat spoiled. She's also loath of closed places, due to her confinement for so many years, and prefers to be out in the open. She's persistent, and never gives up until she gets what she wants- which can be a good, or a bad, thing.
-
--
-
Occupation: Princess
-
Age: 15
Hair: Purple
Eyes: Blue-Green
Height: 4'9"
Weight: Around 90 lbs.
-
Combat-Oriented (2 attacks, 2 skills, best weapons/armor)
-
Muscle- 10
Stamina- 20
Intelligence- 10
Talent- 20
Dexterity- 10
Agility- 20
-
Weapon(s): Mostly Staves and Swords.
-
Skills:
-Air Magic
-Ice/Water Magic
-
-
Player : Windstar
-