Arcus
-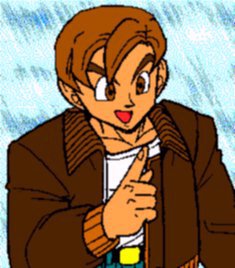 -
Arcus is 21 years old, and is of average height(5'10"), weight(165 lbs.), and build. His skin is well tanned due to a lot of outdoor work. His hair is short, brown, and curly. His eyes are the same color as his hair. He wears a loose white tunic, heavy blue leggings, and light walking boots. A leather belt clasps his waist, and a brown leather jacket with lighter trim is worn. When traveling his wears a heavy brown hooded cape. Behind him is a drawstring backpack. Slung over his right shoulder is a large travel satchel. A tin flute hangs from his belt. His companion Zeth is usually either draped around his neck, or flitting along over Arcus's shoulder. Zeth looks like a snake, with blue and silver scales with a green underbelly. Around its head and neck is a crest of similarly colored feathers, and the feathered wings are of the same coloration. Zeth is about 3 feet long with a four foot wingspan, and weighs about 30 lbs. When the weather turns cold, Zeth prefers to stay under Arcus's cape to stay warm. Zeth's bite is poisonous, but not deadly to anything larger than a small rodent.
Arcus is an easygoing fellow most of the time. He is willing to forgive other people for their faults, and gives them whatever respect they earn. He tries not to sweat the small stuff. He's clam and creative, with a good sense of humor. He tends to daydream and a bit impatient as well. He prefers to let others lead. To Arcus, Zeth is not a pet. Zeth is a friend and companion, and gets upset if people treat Zeth like a stupid animal. Zeth has similar feeling, and gets snippy if someone treats him poorly. Zeth's personality is similar to Arcus's, but a bit more reserved and buisnesslike. It takes a while for Zeth to get used to strangers, and stays close to Arcus until he's sure the new people are okay.
AArcus' background is a mystery thus far. He has however admited to being from the town of Marl, and has introduced the group to his sister, Erin. He has also indicated that he has done a lot of traveling over the course of his life, and has shown talent for singing, dancing, and playing the flute.
-
--
-
Occupation: ...? Unemployed?
-
Age: 21
Hair: Brown
Eyes: Brown
Height: 5'10"
Weight: 165 lbs.
-
Combat-Oriented (2 attacks, 2 skills, best weapons/armor)
-
Muscle- X
Stamina- X
Intelligence- X
Talent- X
Dexterity- X
Agility- X
-
Weapon(s): Swords
-
Skills:
-Fusion Magic

-Sword Techs

-
Player : DNW
-