Jade
-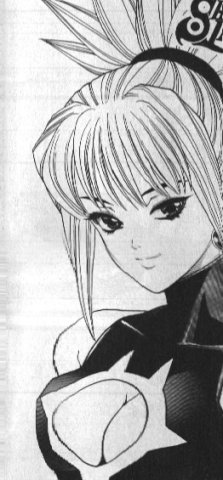 -
Jade is, by profession, a soldier, or a mercenary. And a very attractive one. She has long black hair, icy blue eyes, and pale skin. She is 5 feet 11 inches tall, and weighs approximately 145 pounds. In terms of clothing, Jade is always seen wearing a long black cloak that covers her entire body, with a hood that she uses to conceal her face. In combat she casts this cloak off to reveal a body that is leanly muscled from many years of fighting. Two particularly striking characteristics about her are the twin cybernetic claws attached to the end of each of her wrists.
Jade is extremely sarcastic and bitter. She eagerly takes any open opportunity to insult or degrade anyone. Because of this, she is avoided by most everyone. However, the sarcasm and bitterness serve as a type of defense and not a true personality trait. Underneath, Jade is a quite compassionate and caring person. Occasionally this tiny section of her will appear, but the vicious side is the more dominant one and is thus more apparent.
Jade is a 40 year old genetically engineered Danek scientific project. Doctors used a clever blend of magic and technology to create what they thought would be the perfect soldier: a woman submissive and ready to take orders, yet merciless and tactful in battle. As she grew up, the Danek army starved, beat, and raped her as they pleased; simply to increase her rage and make her more vicious in combat. They trained her in deadly hand to hand techniques, and let her practice on soldiers that hadn't performed quite up to par. She usually ended up killing them.
When she reached age 10, the doctors cut off both of her hands and replaced them with cybernetic counterparts. They work almost exactly like normal hands, except that they're metal and claws extend from the end of each fingertip at Jade's will. She has killed many an unsuspecting fool with these weapons.
When she reached age 20, Jade's body stopped aging completely. The Danek scientists had created her so that her aging process would cease once she reached her physical and mental prime, and she would be the perfect weapon when they took over Vay. Unfortunately, they didn't expect her to turn on them once she reached this age, and escape. Jade left the compound in which she was born and raised, and fled into the nearby wilderness. She has been wandering Vay ever since.
Jade has no immediate goals. She is pleased that Danek is no longer a source of power at all, but she still rages inside because of the injustice and pain that is her existence. She'd like to hurt something, and badly.
-
--
-
Occupation: Soldier; Mercenary.
-
Age: 40
Hair: Black
Eyes: Ice Blue
Height: 5'11"
Weight: 145 lbs.
-
Combat-Oriented (2 attack, 2 skills, best weapons/armor)
-
Muscle- 30
Stamina- 18
Intelligence- 5
Talent- 8
Dexterity- 12
Agility- 17
-
Weapon(s): Swords
-
Skills:
-Claw Techs
-Karate Techs

-
-
Player : Rane
-