Natalya Wilkshire
-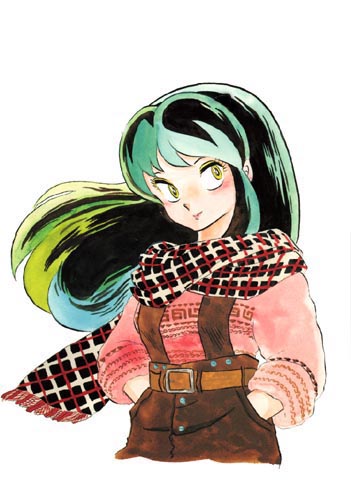 -
Although Natalya's real age isn't known, she appears to be around 17 years old, and is of average height. She has long, straight green hair which she likes to either have loose on her back, tired with a ribbon, or pulled up into a high ponytail. She surprisingly is very shapely, getting quite a bit attention from male suitors, which annoys her to no end. Although she doesn't like to give out measurements, she is thin, and somewhat on the petite side. Her face is small and heart shaped, and she has large, bluish-green eyes. Her usual traveling attire consists of brown shorts with suspenders, a pink sweater that has embroidered pattern on the sleeves and front, and a red, white, and black checkered scarf around her neck. The look is topped off by a brown belt, white tights, and leather boots which lace up to her calf. Her skin is somewhat on the pale side, save for the rosy color on her cheeks.
Natalya is a very carefree, cheerful soul. Her outlook on situations, for the most part, is very optimistic. If the party is down on it's luck, or doesn't have the drive to continue on, she's the one that'll motivate them back into fighting spirit. She's got a good sense of humor, and loves having a good time, but she also knows when to get not so fun jobs done. She's pretty smart for her age, knowing quite a bit about Vay's history and culture. She is also very perceptive, being able to see through people and situations quite easily. Even though she is perceptive, Natalya shows signs of being nieve in other ways. Little situations that would seem commonplace or known to one person, would be wondrous and mysterious to Natalya, mostly due to the fact that her memory is somewhat screwed up. Natalya also has a great love of exploration and adventure. She loves learning ancient stories of the early days of Vay, and exploring ruins of the ancient past. When Natalya is upset, lonely, or confused, she tends to draw into herself, and can get very emotional when truly pushed.
Natalya's past is one big blur. Currently, she has very little recollection of her past with only bits and pieces showing through that are either too muddled or too vague to make any sense of. Natalya was found four months ago, before the massive Danek assault, by Resistance leader Rohan. The Resistance at that time was incredibly small, and radical. While they felt the empire was up to no good, by the coal and steel pouring into the country as of late, no one believed them. The group, who had their group situated in Marwick was rudely awakened one night by strange waves of light emitting from the small forest town of Ratiza. When the ragtag group approached the town, it was engulfed in magical white hot flame, which was either bombs, or magical backwash from a powerful spell. The flames seemed to be originating from the high mountain peak that overshadowed the town. Rohan instantly figured it had to be Danek cannons launching bombs on the small hamlet, but he was never able to prove it.
When the flames finally died down, Rohan and his comrades searched for any survivors, and among them, they found a unconscious woman, clad in a white dress that was so torn it hardly covered her. That woman was Natalya. When she awoke, the only thing she was able to remember was her name: Natalya. She made up the last name of Wilkshire, so she would feel more 'complete' Since she couldn't stay in the town, Rohan offered her a place in his resistance, and Natalya more than agreed, after all, it was something new to try, and she too, thought the empire had destroyed the town.
Even though Natalya isn't much on the cliché aspect of not having memories, it, for the most part, hasn't bothered her much. Since she was fairly smart to begin with, she was able to lead a normal life, and has been a valuable asset to Rohan's group. Since the empire began attacking, the Resistance has doubled, and they recently opened a base in Kerzalt, thanks to Rohan's and Natalya's campaigning. The group jokingly calls her "Elynthia's Twin" since her situation is somewhat similar to the late Orb Sealer, but the group is convinced she is not connected or related to her.
With Gwen's recent death, Natalya feels it is her obligation, in Gwen's memory, to take her place and keep the rather haphazard party together, through thick and thin. Whether that means being the actual leader, or just moral support, is totally up to the party. She also feels that, somehow, the empire holds the answer to many of her questions, both about how they came into power in the first place, and how she feels it somehow relates to her. Her hypothesis is that Jeal somehow has an stronger, outside power helping him, and wants to see if her theory is correct.
When Natalya joins the group, her past isn't a major concern on her mind. It's just fun, adventure, and smashing the empire. But when Natalya is forced to stop and think of her past, and when it comes to haunt her, it might strike horrible blows to both her, and those she holds dear...
-
--
-
Occupation: Member of the 'Resistance'
-
Age: Appears to be around 17.
Hair: Green
Eyes: Blue-Green
Height: Average; around 5'8".
Weight: Unknown- slim.
-
Rounded Orientation (1 attack, 3 skills, good weapons/armor)
-
Muscle- 17
Stamina- 15
Intelligence- 16
Talent- 18
Dexterity- 14
Agility- 10
-
Weapon(s): Maces/Mallets
-
Skills:
-Health Magic
-Ice/Water Magic
-Mace Techs
-
-
Player : Lucca
-